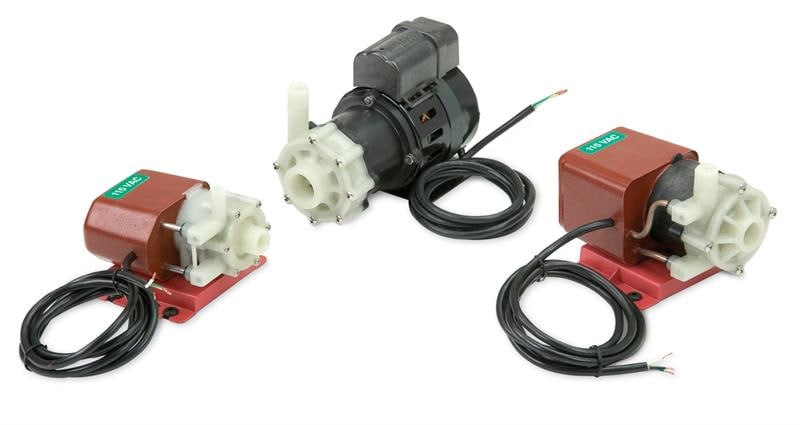 Reliable, heavy-duty centrifugal pumps to provide a steady flow of cooling water through the air conditioning system.
The glass reinforced polypropylene head pumps have magnetic drive impellers, and are available with submersible or air cooled motors. Larger pumps have bronze heads with mechanical seals, and air cooled, drip-proof motors. A wide range of pumps and motors are available for use in different power environments.

Centrifugal pumps must be mounted below the water line. Self-priming pumps are also available for above water line applications. A scoop type through-hull and a seawater strainer are recommended for proper operation.

When more than one air conditioning unit is served by a single pump, a separate pump relay is used. To complete the installation, Cruisair can also supply water manifolds, hose, and fittings.
Technical Specifications for DX Seawater Pumps



Model

Capacity (gph)


Power

Ignition Protected


Inlet

Outlet




PML250
250 @ 3'

115V, 50/60 Hz


Yes

3/4" MPT

1/4" MPT




250 @ 3'

230V, 50/60 Hz


Yes

3/4" MPT

1/4" MPT



490 @ 3'


115V, 60 Hz

Yes

3/4" FPT

1/2" MPT



490 @ 3'


230V, 60 Hz

Yes

3/4" FPT

1/2" MPT



490 @ 3'


240V, 50 Hz

Yes

3/4" FPT

1/2" MPT



500 @ 7'


115V, 50/60 Hz

Yes

3/4" FPT

1/2" MPT



500 @ 7'


230V, 50/60 Hz

Yes

3/4" FPT

1/2" MPT




500

115V, 50/60 Hz

Yes

3/4" FPT

1/2" MPT




500

230V, 50/60 Hz

Yes

3/4" FPT

1/2" MPT



1000 @ 3'


115V, 50/60 Hz

Yes

1" FPT

1/2" MPT



1000 @ 3'


230V, 50/60 Hz

Yes

1" FPT

1/2" MPT



800 @ 3'


240V, 50 Hz

Yes

1" FPT

1/2" MPT



1000 @ 3'


115V, 50/60 Hz

Yes

1" FPT

1/2" MPT



1000 @ 3'


230V, 50/60 Hz

Yes

1" FPT

1/2" MPT




1000

115V, 50/60 Hz

No

1" FPT

1/2" MPT




1000

230V, 50/60 Hz

No

1" FPT

1/2" MPT




1000

115

/230V, 50/60 Hz

No

1" FPT

1/2" MPT



1200 @ 5'


115/230V, 50/60 Hz

No

1" FPT

1" FPT



1260 @ 5'


115

V, 60 Hz

No

3/4

" FPT

3/4" FPT



1260 @ 5'


115

/230V, 50/60 Hz

No

3/4

" FPT

3/4" FPT



1320 @ 5'


115/230V, 50/60 Hz

No

3/4" FPT

1/2" MPT



1500 @ 3'


115/230V, 50/60 Hz

No

1-1/4" FPT

1" FPT



1500 @ 15'


230/480V, 50/60 Hz, 3Ph

No

1-1/4" FPT

1" FPT